7 Incredible Things I Saw At HLTH2022: Las Vegas
What Happened In Vegas Definitely Won't Stay There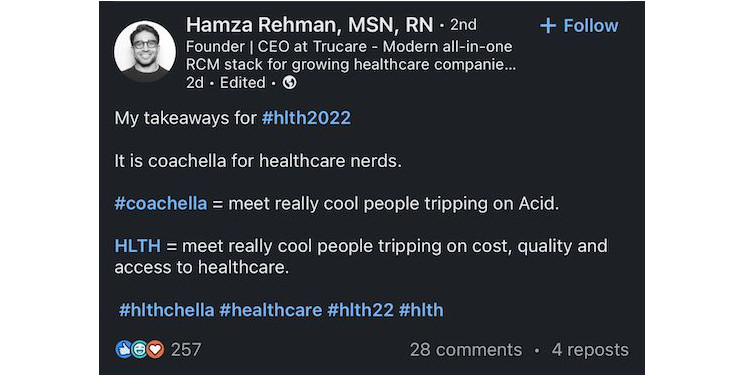 Have you ever seen a rapper at a corporate event?
HLTH2022 is the largest health technology meetup of its kind in the world, with more than 10,000 delegates and 900 companies converging on Las Vegas - a city that is something of a corporate Mecca for conferences.
For a humble junior doctor from Queensland, the bright lights of casino hotel facades, as well as the slicked back hair and even slicker pitches from health insurance company salespeople were a lot to digest.
The event was true to its flashy American roots: a 5 metre diameter model moon hung atop a 2500 square metre warehouse turned conference hall that looked more like the International Space Station than a corporate gathering.
Black tie wait staff waltzed around with trays of mimosas at 8am as 25 conference staff serviced a registration line that measured 800m long. Million dollar drop-in booths belonging to premier companies like Google and Amazon sat in the centre of a ring of hundreds of companies of all sizes, from early-stage preseed startups right through to Fortune-500 multinationals.
There were fully-catered networking events at a range of the hottest clubs on Las Vegas Boulevard each night, the last of which featured pop star-rapper Ludacris of all people. And I'll say that as a guy who's largely apathetic to his brand of music, the guy puts on a hell of a live show.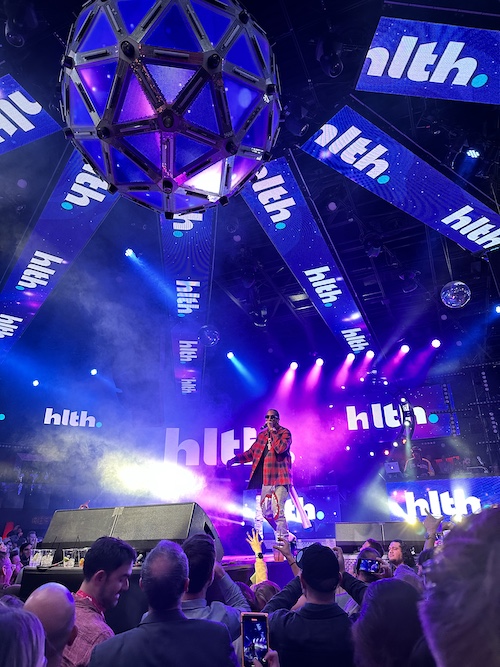 My favourite quote from his show had to be "What's up my corporate mf Ludacris fans!?".
But between the sounds of slot machines paying out impotent fiscal prizes, and the smell of the tobacco-stained carpet of Treasure Island Hotel, lay some incredibly innovative healthcare technology.
In fact, I have reason to believe that by 2027, medical interns will be providing bedside transthoracic echocardiograms (TTEs) on a daily basis, a skillset typically reserved for specialist cardiologists or sonographers in 2022.
In no particular order, here are some of my favourite things I saw at HLTH2022:
1. Agili8
Agili8 are a super cool Australian healthtech firm that make augmented reality glasses which facilitate remote specialist assistance. Their technology is still being refined however I trialled a demo that overlayed an interface over my normal vision, allowing a remote user connected via internet to see what I saw, pull up anatomical diagrams or scans, and annotate areas of interest.
The limits for this technology are seemingly endless. I'm thinking about things like tertiary intensivists helping rural PGY3s locums put in arterial lines in the middle of the night, on-call consultants providing intraoperative advice to their registrars without leaving their bedroom, or obstetricians giving caeserean training to low resource communities from overseas.
Super cool!
2. A Range of Clinical Applications of VR
The number viable of clinical virtual reality offerings also continues to grow year on year. I played an awesome demo from Canberra startup RecoveryVR that includes more than 75 different physiotherapy exercises, for things ranging from rehabilitation to pain management and mental health.
One of the exercises I tried was a hand and wrist therapy suite that involved holding and rotating a maze that was mounted on a square plate. The aim was to guide the marbles from the beginning of the maze to the end, and in doing so, exercise a wide range of motion on your wrist joints.
Another cool one was Wide Awake VR (USA), who promise drug-sparing VR meditation alternatives to anaesthetic. I think technology like this is really promising, especially when combined with behavioural therapy treatments provided by companies like Comfort Quest (Brisbane). These novel non-pharmacological approaches are important pieces of the puzzle in the war against opioids.
3. Graphics et al
Graphics et al. are a Brisbane based SaaS company that are solving the problem of complex scientific communication. Their Canva-style graphics library of more than 10,000 drag-and-drop assets helps scientists, entrepreneurs, doctors and manufacturers communicate their healthcare science in a fast and efficient way.
This type of tool might sound like a niche, but if it is, it's a gigantic one. There are literally thousands of applications for software like this, and with promising growth numbers and insatiable appetite for their tech the healthcare sector in the US, I'm very excited to see where this home-grown startup goes over the next 12-24 months.
4. Signs of a Thriving Australian Digital Health Ecosystem
I spent much of my time in Vegas floating around the ANDHealth Pavillion, where I ran into many diverse and talented Australian entrepreneurs working on everything from SaaS to VR to clinical AI.
ANDHealth's mission is to build a world-leading integrated ecosystem for digital health in Australia, and with hefty public and private investment, the future has never looked brighter for domestic innovation in digital health.
5. us2ai ECHO
Perhaps my favourite clinical innovation I saw was an AI-powered tablet application that assists an untrained operator in delivering transthoracic echocardiograms (TTEs), offered by https://us2.ai/.
This has far-reaching implications for accessible healthcare, because the notoriously inaccessible investigation would be of extreme value in remote communities to investigate heart diseases such as rhemautic heart disease, aortic stenosis, pulmonary embolism, various forms of heart failure and so on.
The demo involved a regular TTE ultrasound probe plugged into an off-the-shelf tablet with proprietary software running on it. The device interprets the images in real time, offering advice about how to improve the image quality - "Rotate the probe upwards", "Move the probe to the left", and so on.
Once the device detects an appropriate image quality, it automatically captures and saves the images, allowing you to refer them elsewhere, or keep them locally for instant and automatic clinical reporting. Regretably I don't have the clinical expertise to comment on the report accuracy, however if it's anything close to satisfactory, this technology is poised to change healthcare delivery in a big way.
6. Tournicare
Hypertension is one of the most common modifiable risk factors for heart disease and stroke, and so having technology that helps identify it and monitor response to therapy is incredibly valuable at the population.
Melbourne hardware startup Tournicare have developed a free-standing, non-circumferential blood pressure cuff that measures blood pressure and has the potential to remotely share that information over bluetooth a range of integrated software systems.
Chatting to CEO and founder Niels van Sparrentak, he feels that in the next 12 months they'll be able to measure BP in a mere 10 seconds (novelly during the inflation phase of the measurement). I do wonder, if they can achieve this, could this device have applications for a cohort of inpatients as a non-invasive alternative to arterial lines?
7. A Consensus Opinion on the Necessity for a Value-Based Care Model
For a long time, I've been quite cynical of the various commercial agents within the US healthcare system, and their motives. And lord knows I'm not alone, especially when the "greatest country in the world" is so famous for their obnoxious healthcare bills for routine operations or ED presentations.
Perhaps one of the most eye-opening panels I listened to at HLTH was one that featured 3 decision makers within the largest healthcare insurance networks in North America. Perhaps I was simply drinking the corporate-speak KoolAid, but I did remember leaving feeling that these organisations do have people within them that want what we want, however the current financial incentives don't organically allow these businesses to operate in that way.
Enter: a value-based healthcare delivery model. In this model, healthcare providers are paid based on patient health outcomes, rather than on the amount of healthcare services they deliver, as is the case in the current fee-for-service model.
What's transformative about this is that providers are no longer incentivised to deliver services, but rather invest heavily in care that prevents and mitigates complications, which is widely demonstrated to be highly cost-effective. This lowers healthcare costs across the board which is a clear win for patients, practitioners, payers and society as a whole.
Now a value-based healthcare model isn't without it's own problems, but that's beyond the scope of this article. Clearly, though, something has to change, and it's really cool to meet people on the coalface of this innovation at in-person events like HLTH2022.
I'll catch you at HLTH2023!
________________